St Camillus (1550 – 1614) was born in Bucchianico, Italy. His father was an army officer and seldom at home. His mother died when he was 12. It is said that he had a fiery temper and led a wayward youth.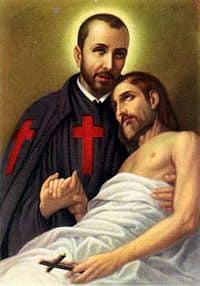 At 16, following in his father's footsteps, he joined the army and remained there until his regiment was disbanded; he was 25. St Camillus then joined a Capuchin Friary as a labourer and, greatly influenced by the Friars, he changed his lifestyle from one of drinking and gambling to prayer and penance. Unfortunately, however, a leg wound, deemed incurable by physicians, meant that he was denied admission to the Order.
St Camillus travelled to Rome and joined St James' Hospital as an assistant to the sick and terminally ill. He also continued his strict austere life of prayer and penance and, with new-found religious commitment, entered a seminary. He was ordained a Priest in 1584 and subsequently established a religious community, known as The Camillians, devoting their time entirely to the care of the sick and dying regardless of the nature of their infection or illness.
St Camillus' Order became the original Red Cross Organisation and members vowed, "To serve the sick, even in times of danger to one's own life".
St Camillus was well known throughout Rome for his supernatural healing and prophecy and was often referred to as The Saint of Rome.
St Camillus' Feast Day is the 18th July. He is the Patron Saint of the sick.
---
St Camillus de Lellis:
Pray for us that we will not desert our brothers and sisters who are sick and in need of our help.
Glory be to the…
---