St Callixtus (Died 223) was Pope and Bishop of Rome from 218 until his death, five years later.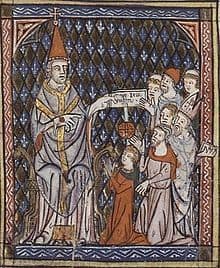 Soon after his appointment, St Callixtus allowed many Christians who had previously left the Church for fear of execution by the Romans, to return without performing an expected public penance. His policy of mercy and forgiveness wasn't welcomed by everyone, it resulted in the appointment of the first anti-Pope, Hippolytus.
St Callixtus was martyred around 223 for his firm Christian conviction and Gospel teachings, possibly during an uprising. A shrine quickly formed at the site of his death; followed in the ninth century by a Church in his memory.
St Callixtus' Feast Day is the 14th October.
---
St Callixtus:
Pray that we will always find the heart to forgive those who seek our help and mercy.
Glory be to the…
---