St Bruno (1030 ca – 1101) was born into the notable Hartenfaust family at Cologne, Germany. He was educated at Reims and studied Latin, Hebrew and Greek. At 25, he was made Canon of St Cunibert's in Cologne and retained the role for the next twenty years.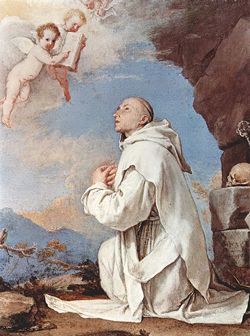 In 1075, although St Bruno was appointed Chancellor of the Diocese of Reims, he later, "deliberately avoided" an appointment as Bishop, preferring an isolated life of prayer, penance and poverty. However, his hopes were short-lived when he was transferred to Rome. There he became a confident advocate to the papacy. His writings included commentaries on the Psalms and St Paul's Letters.
St Bruno's friends described his main virtues as, "his great spirit of prayer, extreme mortification, and devotion to the Blessed Virgin".
St Bruno's Feast Day is the 6th October. He is the Patron Saint of Calabria.
---
St Bruno of Cologne:
Pray that we will live a life of prayer and remain loyal to the teachings of the Catholic faith.
Glory be to the…
---