St Boniface (675 -755) was born in Wessex, England. His family was, "respected and prosperous". At an early age and against his father's wishes, he planned and followed a monastic life. His education included theological training by the Benedictines near Winchester.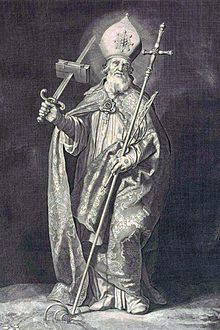 At 30, he was ordained a Priest and, having declined the role of Abbot at Nursling, he embarked on a mission to North West Europe. His initial work was interrupted by war but following a visit to Rome he was appointed missionary Bishop of Germany and returned to resume his evangelising work. In the following years, his conversions to Christianity, reforms of the Frankish Church and peace-making between the Papacy and the Carolingian dynasty rulers, made him, "One of the truly outstanding creators of the first Europe". He was martyred along with fifty-two other Companions by "heathens" in Frisia.
St Boniface's Feast Day is the 5th June. He is the Patron Saint of Germany and is often referred to as their "Apostle".
---
St Boniface:
Pray for us that our energy to share our faith with others will never fail us.
Glory be to the…
---