St Bibiana (4th Century) was born into a Christian family in Rome.
During the persecution of Christians by Governor Apronianus, her father, Flavian, a Roman knight, was arrested, tortured and exiled; he later died from his wounds. Her mother, Dafrosa, was martyred by beheading.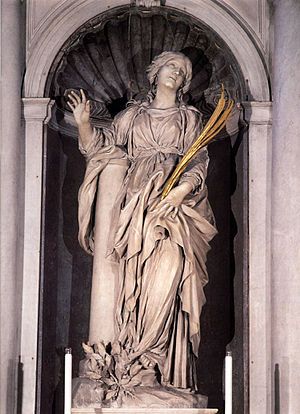 St Bibiana and her sister, Demetria, were stripped of their possessions and held hostage in their home. They spent the time praying and fasting.
Apronianus was infuriated with their persistent Christian actions and subjected them to additional hardship. Demetria, celebrating her faith, "died at the feet of Apronianus". St Bibiana, continuing to proudly profess her faith, led an "enraged" Apronianus to order that she be tied to a pillar, scourged and beaten to death.
St Bibiana's Feast Day is the 2nd December.
---
St Bibiana:
Pray that our faith will never die and our daily living will be a constant prayer to our Almighty God.
Glory be to the…
---