St Bernardino (1380 – 1444) was born into a noble family at Massa Marittima, Tuscany, Italy. His father was the Town Governor. At 6yrs, St Bernardino was orphaned and a pious aunt adopted him. He received a good education and joined the Confraternity of Mary which was linked to the local hospital and Church.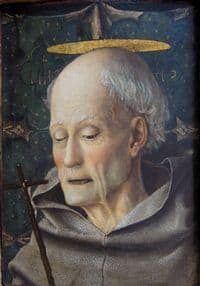 Following an outbreak of plague, St Bernardino tended to the many sick and dying while others kept a distance. On one occasion, for a period of four months, he took complete charge of the local hospital and with the assistance of a small group of companions, continued to help and care for the diseased. Although he himself escaped the plague, exhaustion and other illnesses afflicted him, and he was incapacitated for many months afterwards.
St Bernardino joined the Franciscans and was ordained a Priest. He became renowned for his preaching, not only in Church but in public places where he attracted great crowds. He openly challenged destructive family issues including gambling, witchcraft, sodomy and usury. He is known as, "The Apostle of Italy," for his efforts to revive our Christian faith in the 15th Century.
He is the Patron Saint of advertising, gambling addicts, public relations personnel and the Diocese of San Bernardino, California. His Feast Day is the 20th May, the anniversary of the date of his death.
---
St Bernardino:
Pray for us that we will avoid the vices of sin and faithfully live the Gospel teachings of Jesus.
Glory be to the…
---