St Bernard (Died 1220) was born into a noble family in Umbria, Italy.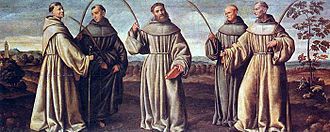 St Bernard joined St Francis' newly founded Franciscan Order of 1213. He was sent by St Francis, along with two other priests, Peter and Otho, and two lay brothers, Accursius and Ajutus, to preach the Gospel in the then mainly muslim East.
They set sail for Seville and travelled through Spain and Portugal before sailing to Morocco. They preached wherever crowds gathered and people listened. Despite being imprisoned and beaten for their actions, they refused to relinquish their mission.
On 16th January 1220, all five were again arrested and once more they refused to stop preaching. On this occasion, the Sultan, in his rage beheaded each with his sword. They were the first martyrs of the Franciscan Order. Their Feast Day is 16th January.
---
St Bernard & Companions:
Pray for us that we will honestly pass the teachings of Jesus to others.
Glory be to the…
---