St Benedict Joseph Labre (1748-1783) was born the eldest of fifteen children into a prosperous family at Amettes, France. He was educated by his uncle, a Parish Priest.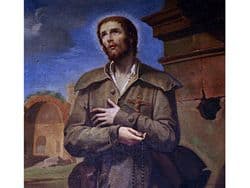 At the age of 16, St Benedict's parents dissuaded him from becoming a monk. A couple of years later an epidemic swept over the city and while his uncle administered to the sick and dead, St Benedict helped with his family farmyard chores. Sadly as the epidemic was coming to an end, St Benedict's uncle also died.
St Benedict tried to join many Religious Orders and study for the priesthood but was repeatedly rejected until finally, he was accepted into the Order of St Francis, devoting his life to prayer and pilgrimage. Over the following years, he travelled to numerous pilgrimage sites across Europe, eventually remaining in Rome, sleeping outside the Colosseum. His homeless life of pilgrimage, prayer and severe penance was paralleled by numerous miracles and helping the poor. Immediately following his death, probably from malnutrition, numerous miracles were attributed to his intercession.
St Benedict's Feast Day is 16th April. He is Patron Saint of the homeless.
---
St Benedict:
Pray with us for the poor and marginalised that they will receive food and comfort from Almighty God.
Glory be to the…
---