St Bede (Approx. 672/3 – 735) was born in the Sunderland area of England, into probably a wealthy family. At the age of seven, he was sent to the Monastery of Monkwearmouth to be educated. He then transferred to the Monastery of St Paul in Jarrow where he remained until his death.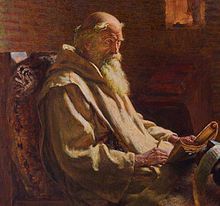 He was undoubtedly a very brilliant young man. At 19, he was appointed a Deacon and at 30, he was ordained a Priest by the Bishop of Hexham. St Bede was a prolific writer and remains a highly respected author and scholar of his time. One of his works, The Ecclesiastical History of the English People, gained him the title "The Father of English History".
St Bede's remains are interred at Durham Cathedral. He is the Patron Saint of writers and historians and also a Doctor of the Church. His Feast Day is the 25th May.
---
St Bede The Venerable:
Pray for us that we will become worthy of the promises of the Risen Jesus.
Glory be to the Father…
---