(St Basil born 329 or 330, died 1st or 2nd January 379) (St Gregory 329-390)
Both St Basil and St Gregory were born in Cappadocia, Turkey. They met during their early education and became lifelong friends. St Basil had three older brothers and all were appointed Bishops in later life.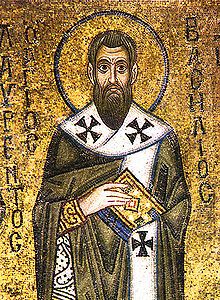 St Basil became a prominent theologian and preacher. When he was once threatened with exile for his resistance against the Arian heresy, he replied, "Is that all? Nothing of what you mention touches me … exile will be impossible since everywhere on God's earth I am at home".
St Gregory's family were wealthy landowners, his mother a Christian and father a convert. He studied Rhetoric (Art of Persuasion) and Philosophy. On his way to study in Athens, he was caught in a fierce sea storm and in prayer, he promised that in return for his own safety he would give his life to the service of God.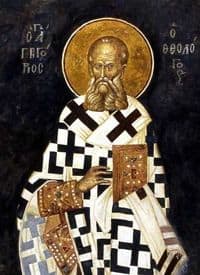 St Gregory was ordained a presbyter by his father who was by then Bishop of Nazianzus. Together with St Basil, St Gregory fought Arian heresy and conquered the great rhetorical contest of the Caesarean Church. He was ordained Bishop by St Basil. St Gregory lived much of the latter part of his life as a hermit. He is a noted Theologian and a Doctor of the Church.
St Basil and St Gregory share a joint Feast Day on 2nd January.
---
St Basil & St Gregory:
Pray for us that we may become worthy of the promises of Jesus our Risen Saviour.
Glory be to the…
---