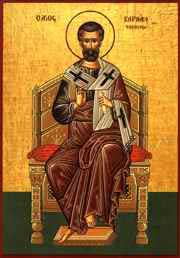 St Barnabas (Died 61AD) was born into a Jewish family in Cyprus. St Mark the Evangelist, was his cousin.
He was one of the early Christian disciples in Jerusalem. He travelled with St Paul on some of his missionary journeys preaching Jesus' message and helping to convert others to Christianity. St Barnabas is named in the Acts of the Apostles and St Paul's Epistles. He was martyred at Salamis, Cyprus.
St Barnabas is recognised as the founder of the Cypriot Orthodox Church. His Feast Day is the 11th June.
---
St Barnabas:
Pray for us that we may be may become worthy of the promises of Jesus Christ.
Glory be to the…
---