Blessed Anthony (1592-1671) was born in Fermo, Italy. His father died when he was ten years old.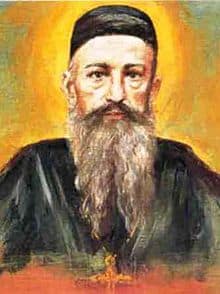 Bl. Anthony was educated locally and regularly attended the Church of the Oratorian Fathers. At 17, then a bright young man with a strong devotion to Our Lady of Loreto, he joined the Oratorians to study for the Priesthood. His fellow student's sometimes referred to him as the "walking dictionary" because of his great knowledge of Theology and Scripture.
In 1621, Bl. Anthony miraculously survived being struck by lightning while praying at the Church of the Holy House, Loreto. The experience reinforced his religious commitment and thereafter, he made an annual pilgrimage to Loreto to give thanks to God for sparing his life.
In 1635, Blessed Anthony was elected Superior of Fermo Oratory and, because of his popularity, re-elected every three years until his death.
Bl. Anthony was a quiet Priest and wanted to remain unknown. He avoided social events and instead, preferred to visit the sick and family homes. He was sought after as a Confessor and his special love was saying the Holy Mass. Other than a pilgrimage to Rome, retracing the life of St Philip Neri founder of his Order, he rarely left Fermo.
Bl. Anthony's Feast Day is the 13th December.
---
Bl. Antonio Grassi:
Pray that we will discover the joy of humility and self-sacrifice while giving praise to the Risen Jesus.
Glory be to the…
---