St Anthony (Galvão) (1739 – 1822) was born the fourth of ten children into a deeply religious family at Sao Paulo, Brazil. His father was involved in local politics and he was also a member of the Order of St Francis. At 13, St Anthony followed his older brother to Jesuit school but at 16, wishing to continue a religious life, he transferred to St Bonaventure Friary as a novice in Rio de Janeiro.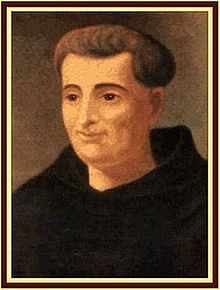 At 23, St Anthony was ordained a Priest and, returning to Sao Paulo, he immediately set about his new ministry. He worked relentlessly for the poor and those who wished to follow a religious life. He became a highly respected figure, maintained an intense prayer life and was credited with numerous miracles.
St Anthony gained notoriety for his, "Paper pills," after writing a short prayer on a piece of paper saying, "…O Mother of God intercede for us," and giving it to a woman in severe pain. The woman was miraculously healed, which in turn led many others to request similar, "Paper pills." St Anthony was canonised by Pope Benedict in 2007.
---
St Anthony of St. Ann Galvão:
Pray for us that we will place our entire trust in God.
Glory be to the…
---