St Angela (1474-1540) was born at Desenzano del Garda in Italy. At 15yrs, she was orphaned and at 20yrs, her only sister also died. Her sister's death affected her greatly. She joined the Order of St Francis but remained troubled because her sister hadn't received the Church's 'last sacraments' before her death. However, in a vision, she was later told that her sister was in heaven, among the angels and saints.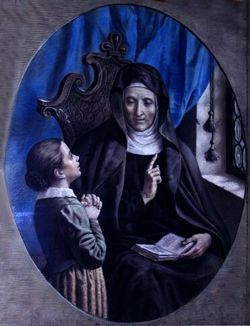 St Angela, having decided on a religious life and responding to another vision, set up a school for young girls in Brescia using her dowry and with the help of like-minded women.
In 1524, while travelling to the Holy Land via Crete, St Angela lost her sight but continued her pilgrimage. On her return back through Crete and while praying in front of a crucifix, her sight was miraculously restored.
During the Holy Year of Mercy in 1525, St Angela travelled to Rome to gain the associated indulgences. While there, Pope Clement VII invited her to stay in Rome but she returned to extend her school system in Brescia and beyond. In 1527, she set up the Company of St Ursula, consisting of 12 women, and wrote group rules based on celibacy, poverty and obedience. Four years later, the group had grown to 28 and in 1537, St Angela was appointed their first Mother.
By the time of St Angela's death in 1540, the group had expanded to 24 communities with numerous orphanages and schools.
St Angela's Feast Day is 27th January, the day of her death. She is Patron Saint of sickness, the handicapped and orphans.
---
St Angela:
Pray for us that we will be truthful teachers to all of God's children.
Glory be to the…
---