There are an estimated 8,000+ Korean Martyrs. Only a few hundred are officially named. Pope Francis canonised 123 of them in 2014.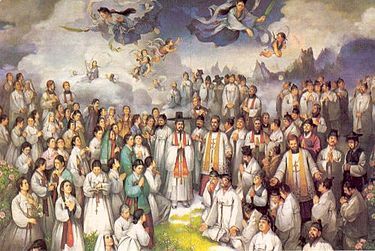 The Korean Martyrs were the victims of religious persecution during the 19th century. Korea was then a country ruled by dynasties with a small number of privileged noble leaders served by the majority and who endured hard labour.
Christianity was seen as a threat to the countries rulers so, it was heavily suppressed. Despite this and the complete lack of Priests, people flocked to Christianity while being managed by lay ministers. They called themselves, "Friends of the teaching of God of Heaven"; friends implying equality.
Slowly, as a secret network of ministers and a small number of Priests were established, Christian suppression multiplied leading to the martyrdom of thousands of the faithful by authorities.
The personal stories of torture and death are heartbreaking. Perhaps the execution of Andrew Kim Taegon is a good example. He was the first Korean Priest to enter Korea as a missionary but was arrested thirteen months after his ordination and put to death by the sword. He was just twenty-six years old.
The Feast Day of the 123 Korean martyrs is the 20th September
---
St's Andrew Kim Tae-gon, Paul Chong Ha-sang & Companions:
Pray with us for religious freedom and a worldwide end to Christian persecution.
Glory be to the…
---