St André Bessette (1845 – 1937) was born in a small town outside Quebec, Montreal. He was the ninth of thirteen children. At 9yrs, his father, a carpenter, died in a tree-fall accident and at 12, his mother died from TB.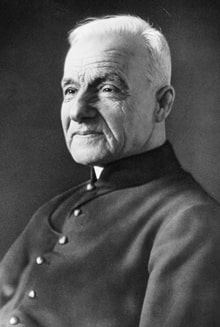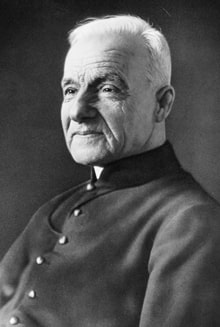 St André became a Lay Brother and remained in the same congregation for over 40yrs. His duties were primarily porter, laundry assistant and sacristan. He regularly visited the sick, blessing them with oil and seeking St Joseph's intercession. During an epidemic, he miraculously nursed many dying back to good health in the name of St Joseph. St Andre became so well known for his miracles that following his death, more than a million people filed past his coffin.
St André Bessette was canonised a Saint in 2010 by Pope Benedict. His Feast Day is 6th January, the day of his death, aged 91.
---
St André:
Pray for us that we will give generously of our time to helping others in need of our prayers and assistance.
Glory be to the…
---