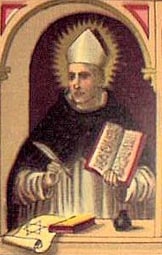 St Albert or Alberto (Died: ca 800) was born in England and ministered, primarily in Cashel, Ireland, and Bavaria, Germany.
Although little is written about his life, he was a renown preacher and evangelist in Cashel and Bavaria. He may also have been appointed a Bishop in Ireland.
On a return pilgrimage to Jerusalem with St Erhard of Regensburg, Germany, St Albert died at Ratisbon in Regensburg where his remains were interred.
St Albert was canonised in 1902 by Pope Leo XIII. He is the Patron Saint of Cashel and arthritis sufferers. His Feast Day is the 8th of January.
---
St Albert:
Pray for us that we will listen to the Gospel of Jesus and enthusiastically share it with others, especially our family.
Glory be to the…
---