St Agnes (ca 291-304) was born into a wealthy Christian family and, with such wealth came many marriage suitors. She refused them all, opting for a life of 'resolute devotion to religious purity'.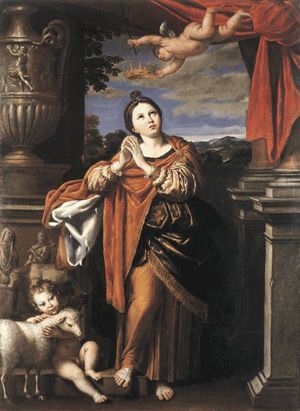 When St Agnes refused to marry the Governor's son, he reported her to his father for being a Christian. His father promised her many gifts to deny God but she refused. Then he imprisoned her and had her dragged through the streets to a brothel, all to no avail. Finally, he ordered her execution probably, by beheading. She was just 12 or 13 years old.
St Agnes is one of only seven women Saints commemorated by name in the Holy Mass. The others are Felicitas, Perpetua, Agatha, Lucy, Cecilia and Anastasia.
St Agnes' Feast Day is the 21st of January, the day of her martyrdom. She is the Patron Saint of chastity, girls, engaged couples, rape survivors and the Children of Mary.
---
St Agnes:
Pray for us that we will choose the path of righteousness despite our trials.
Glory be to the…
---