St Agnes (1197/8 – 1253) was born the daughter of a Count at Assisi in Italy. She was the younger sister of St Clare of Assisi. Her childhood was spent at her father's Palace and Castle.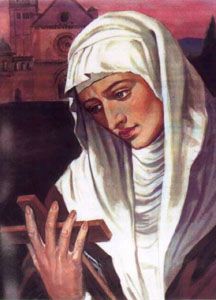 Sixteen days after St Clare secretly left her home to become a follower of St Francis, St Agnes also ran off to share in her sister's life. Despite her father's many efforts to force her to return, he finally came to the realisation that something Divine prevented it.
St Francis established a cloistered life for St Agnes and St Clare. Other women joined them, becoming known as the Poor Clares; an Order whose members lived in extreme poverty.
St Agnes was appointed Abbess of one of their communities, ruling with extraordinary kindness while living a life of holiness. She nursed her elder sister, St Clare, prior to her death on 11th August 1253. She died shortly afterwards, on the 16th Nov 1253. Her remains are interred with her sister at the Basilica of St Clare in Assisi.
St Agnes' Feast Day is the 16th November.
---
St Agnes of Assisi:
Permit me, Divine Jesus, to come closer to You, that my whole soul may do homage to the greatness of Your Majesty; that my heart, with its tenderest affections, may acknowledge Thy infinite love. (Extract from prayers by St Clare)
Glory be to the…
---