St Adelaide was born in Schwaerbeek, Belgium and died on 11th June 1250. At 7, she joined the Cistercian La Cambre Abbey (Brussels) where she received her early education. St Adelaide was a bright girl. She became a Lay-sister with the Cistercians and developed a determined devotion to the Holy Eucharist.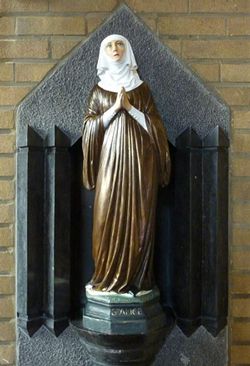 Unfortunately, St Adelaide contacted leprosy and since the disease was generally misunderstood in her time, she was isolated from her community; people believed that leprosy spread through simple skin contact.
St Adelaide suffered greatly. In addition to her isolation, assumed skin lesions, fever and pain, she lost her sight and became paralysed. Her great joy, however, remained the receiving of the Holy Eucharist.
St Adelaide had a vision from the Risen Jesus. He assured her that when she was not able to receive the Holy Chalice, her Communion in Christ was still complete. She also performed numerous miracles both during her life and through her intercession after her death at the age of 46.
In 1702, St Adelaide was canonised by Pope Clement XI. St Adelaide's Feast Day is the 15th of June (Cistercians; Diocese of Malines, Belgium). She is the Patron Saint of the blind and paralysed.
---
St Adelaide:
Pray for us that we will have the strength to joyfully accept the wish of God.
Glory be to the Father…
---