St Adalbert (910 ca. – 981) was born into a wealthy family at Alsace or Lorraine, France. Having survived a serious illness, he became a Monk at St Maximinus Benedictine Monastery in Trier, Germany.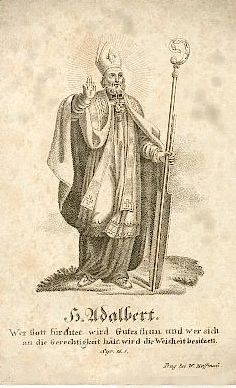 Following a request from Princess Olga of Kiev for a Catholic Missionary, St Aldabert and some of his Companions travelled to Russia. However, soon after their arrival, the antichristian Princess Olga's son assumed her crown and although St Aldabert escaped to Maniz with his life, his companions were martyred.
St Adalbert was then appointed Abbott of Wissembourg in Alsace where he implemented improved educational reforms for its Monks. In 968, he was appointed the first Bishop of Magdeburg and he established the dioceses of Naumburg; Meissen; Merseburg; Brandenburg; Havelberg; and Poznań, Poland.
A noted student of St Adalbert, St Adalbert of Prague (St Vojtěch), became a Bohemian Missionary, the Bishop of Prague and is the Patron Saint of Bohemia, Poland, Hungary and former Prussia.
St Adalbert's Feast Day is the 20th of June, the day of his death.
---
St Adalbert of Magdeburg:
Pray for us that our daily actions will be a true guide to the Gospel of Jesus Christ.
Glory be to the Father…
---