Background: St Dymphna travelled from Ireland to Gheel in Belgium, to avoid the wrath of her mentally ill father. Sadly, when he discovered her whereabouts, he killed her. She was just 15 years old. Immediately following her death, numerous miracles were attributed to her intercession. St Dymphna is the Patron Saint of victims of nervous disorders. Her Feast Day is 15th May.
---

O God, source of our salvation, you enlighten St Dymphna by the light of true faith. Through her intercession, we implore you to strengthen our faith so that by wisely subjecting our souls to Your supreme authority, and by faithfully conforming our lives, we may honour You with our whole heart and soul until the hour of our death. This we ask through Jesus Christ our Lord. Amen.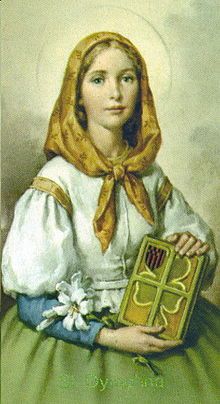 O God, we humbly beseech You, through Your servant St. Dymphna – who sealed with her blood the love she bore for You – to grant relief to those who suffer from mental afflictions and nervous disorders, and … (Share your request …) but may your will be done.
St. Dymphna, helper of the mentally afflicted: Pray for us.
Pray: Our Father … Hail Mary … Glory be …
… St Dymphna, Pray for Us …