Background: St Anthony (1195 – 1231) was born in Portugal. He was ordained a priest and joined the Franciscans on missionary work in Morocco. Due to a serious illness, he was forced to return home but his sailing was diverted to Italy because of poor weather. There he spent his time preaching and praying while living a very simple life in cells and caves. In the final years of his short life, St Anthony taught Theology, preached and served as envoy to Pope Gregory IX. He died at the age of 35yrs. He is Patron Saint of Padua and lost articles. His Feast Day is 13th June, the date of his death.
St Anthony is the Patron Saint of lost articles and all needs. The following Novena originates from a vision St Anthony had of the Baby Jesus. Jesus settled in his arms, kissed him and exclaimed that He loved him for his preaching.
---

Most Lovable St Anthony, we honour you as God's servant for your fidelity and perseverance in His service. May we always be assisted by your merits and intercession in following your example.
L – O God, come to my assistance;
R – Make haste Lord, to help me.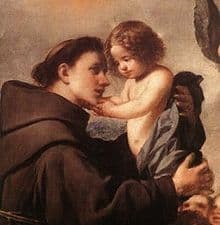 St Anthony, great wonder-worker, God has honoured you abundantly by granting many miracles through your intercession. In your goodness, kindly come to my aid now, and hear my request.
St Anthony, whom the infant Jesus so much loved and honoured, grant what I now ask of you: (Share your request …). But, may God's will be done.
O God, may it always be a source of joy to Your Church that we honour the memory of St Anthony, Your Confessor and Doctor. May his spiritual help make us strong, and his assistance help us gain an everlasting reward. We ask this through Jesus Christ, Our Lord. Amen.
Say: Our Father… Hail Mary… Glory Be…
… St Anthony of Padua, Pray for Us …
---
Related Links

Prayers to St Anthony of Padua