St Anthony became a weaver but recognising a religious calling, he entered seminary and was ordained a Priest at 28.
At 42, St Anthony was appointed Archbishop of Santiago in Cuba where he established numerous schools, vocational centres and hospitals, all to help the disadvantaged and poor. St Anthony's writings, in excess of one hundred documents, include many of his missionary sermons. His Feast Day is the 24th of October.
---

St Anthony, during your life on earth you comforted the afflicted and showed tender love and compassion to the sick and sinful.
Intercede for me now, that you may rejoice in the reward of your virtues in heavenly glory.
Look with pity on me and seek for me this favour…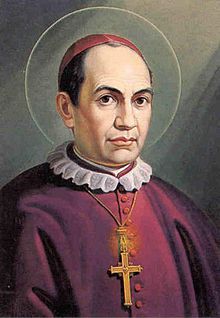 (Share your request…) but only if it be for the greater glory of God and the good of my soul.
St Anthony, make my troubles your own.
Speak a word for me to the Immaculate Heart of Mary.
Ask her to obtain for me, through her powerful intercession, the graces I yearn for so ardently: a blessing to strengthen me during life, and Her assistance at the hour of my death leading me to a happy eternity. Amen.
… St Anthony Mary Claret: Pray for Us …