Jesus' Life: Chapter 3 – Jesus' Early Public Ministry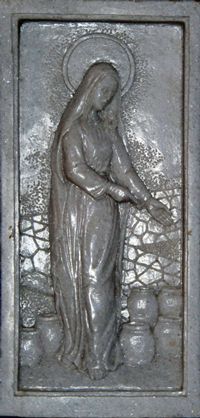 Jesus, his Mother Mary and his disciples were all invited to a wedding feast at Cana in Galilee. When, perhaps unexpectedly, all the wine was used, Mary approached Jesus and said, "They have no wine left". Jesus replied, "Why are you saying this to me? My time has not yet come". Mary then instructed the servants to do whatever Jesus asked.
Jesus told the servants to fill six 20-30 gallon stone jars with water, draw some out and take it to the Head Steward. The Head Steward was not aware of what Jesus had done but when he tasted the water, it had changed to wine. He then called the bridegroom and said, "Everyone serves the good wine first, and then the cheaper wine when the guests are drunk. You have kept the good wine until now!"
This was Jesus' first miracle and by performing it, "He revealed his glory, and his disciples believed in him". (Jn 2:1-11)
Thought
Although it was two thousand years ago, this wedding scene could be typical of many weddings today, where the Bride and Groom's family and their wider community celebrate together.
Jesus didn't disappoint his Mother, Mary. He wanted the many guests to be happy, just as God wants us to be happy and rejoice in Jesus' Word.
Reflection
Loving Lord Jesus, may I bring happiness and joy wherever I go in my life, spreading love and generosity, even when others around me do not.
Prayer:
My Home
If Jesus came to my house to spend a day or two,
if he came unexpectedly, I wonder what I'd do!
Oh, I know I'd give Him my best room,
and I'd keep assuring Him I'm glad to have him there.
But when I'd see him coming, would I meet him at the door,
with arms outstretched to welcome, my heavenly friend.
Or would I have to change my clothes before I let him in,
hide some magazines and put some Holy images where they would be seen?
Would I turn the TV off and hope he hadn't heard,
whilst wishing I hadn't uttered that last, loud word of despair?
If Jesus, my Saviour, spent a day or two;
would I go right on doing the things I do,
and say the things I say.
Would I be glad to have Him meet my closest friends
and take Him outside, everywhere?
Or would I sigh with relief when He leaves and goes elsewhere?