Jesus' Life: Chapter 15 – Jesus' Ministry Before His Passion
Do you have a daily routine?
Getting up in the morning, going to work, returning home, relaxing with the family and then off to bed; that's the routine for many of us! Of course, the time we spend doing each activity varies greatly.
How did Jesus spend his last days in Jerusalem, before his Passion?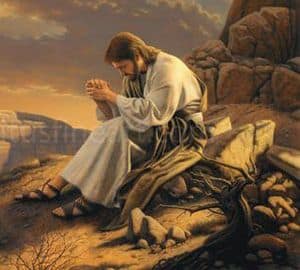 Probably, in the same way, as he did during previous Passovers. He went to the Temple courts, early morning, where crowds would gather to hear him preach and teach. In the evening, he returned to The Mount of Olives or Bethany. Perhaps, he stayed in the homes of his disciples or even in the open air; talking to them, reviewing his work, praying and planning for the next day.
The authorities were unable to arrest Jesus while in the Temple courts because of his many followers. It was Judas, his own disciple, who led them to him in the Garden of Gethsemane, at the foot of the Mount of Olives outside the City Walls. (Luke 21:37-38)
Thought
Where, in my daily routine, have I planned for daily prayer; giving thanks and seeking God's blessings?
Jesus' daily routine is an example to us. Make your everyday routine one long beautiful prayer, a worthy offering to God.
Reflection
Lord Jesus, thank you for walking with me. Accept my work and actions as a token gift of my love for you.
Prayer:
Union with Jesus
Lord Jesus:
I give you my hands to do your work
I give you my feet to go your way
I give you my eyes to see as you do
I give you my tongue to speak your words
I give you my mind that you may think in me
I give you my spirit that you may pray in me
Above all:
I give you my heart that you may love in me,
your Father and all mankind.
I give you my whole self that you may grow in me,
So that it is you, Lord Jesus,
who live and work and pray in me.