Jesus' Life: Chapter 18 – The Passion And Death Of Jesus
Time: Good Friday: Approximately 4.00 – 6.00pm
Joseph of Armithea, a rich member of the Sanhedrin and "secret" disciple of Jesus, boldly went to Pilate and asked for the body of Jesus for burial. Pilate was surprised to hear that Jesus had already died but after having it confirmed from the centurion in charge of Jesus' crucifixion, he agreed. (Mark 15:44)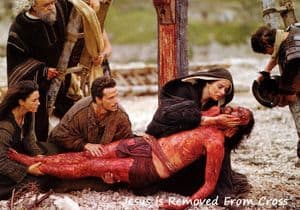 The period of time a crucified victim survived on the cross generally depended on basic factors such as their health and fitness but also the degree of torture they received. Jesus had been heavily beaten and drained of life by the soldiers. Indeed, they were so concerned that he would die on the journey to Calvary that they forced Simon of Cyrene to help him carry his cross. In addition, Jesus had suffered terribly in the Garden of Gethsemane, where "in his anguish, he prayed… and his sweat was like drops of blood falling to the ground". (Luke 22:44)
Joseph removed Jesus' body from the cross and with the help of Nicodemus, the man who visited Jesus at night, "wrapped it, with aromatic spices, in strips of linen cloth according to Jewish burial customs". They then placed it in a nearby tomb where no one had yet been buried and secured the tomb entrance with a large stone. (John 19:40) Jesus, born in a strangers stable had now been laid in a strangers tomb.
The women, including, "Mary Magdalene and Mary the mother of Joses" followed Joseph and Nicodemus and saw where they placed Jesus' body. (Mark 15:47) (Matthew 27:57-61, Mark 15:42-47, Luke 23:50-56, John 19:38-42)
Thought
Joseph and Nicodemus were secret followers of Jesus but it was only following his death that they showed it openly! Why do we hesitate for so long?
Reflection
Lord Jesus, may I proudly show that I am a true follower of you today through my words and actions, my prayers and charity. Amen.
Prayer:
Christian Unity (John Henry Newman)
O Lord Jesus Christ,
when you were about to suffer,
you prayed for your disciples that they might all be one,
as you are in the Father,
and the Father in you.
Look down in pity on the many divisions
among those who profess your faith.
Heal the wounds which the pride of man
and the craft of satan have inflicted on your people.
Break down the walls of separation which divide Christians.
Look with compassion on all souls and bring them together
under the Holy Catholic Church.