Solomon: 990-931BC
King David is said to have had multiple wives, "cementing his relations with various political and national groups through marriage". Inevitably, discussions and posturing with regard to who would be the next king grew as David became old and weak.
Bathsheba, one of David's wives, went to him saying, "My master, you swore an oath to your servant by the Lord your God, Solomon your son will be king…". However, she said, Adonijah, an elder son from another marriage, was already boasting he would be the next king and had acquired chariots, horsemen and fifty royal guards to serve him. (1 Kings 1:13)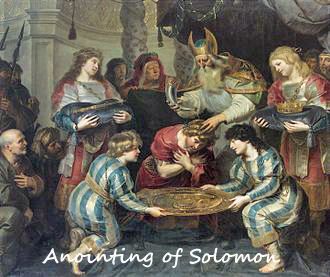 David was greatly distressed and assured Bathsheba that, "As certainly as the Lord lives, he who has rescued me from every danger, I will keep today the oath I swore to you…". (1 Kings 1:29-30) David then called the priest Zadok and the prophet Nathan and ordered them to anoint Solomon, king of Israel, immediately.
God appeared in a dream to Solomon soon after he was anointed. He said, "Tell me what I should give you". Solomon replied, "Give your servant a discerning mind so he can make judicial decisions for your people and distinguish right from wrong". (1 Kings 3:5, 9) God was pleased with Solomon's wisdom. When he awoke and realised it was God who spoke to him, he went to Jerusalem, stood before the Ark and gave thanks to God.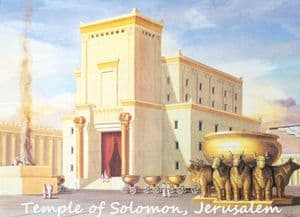 Solomon's wisdom was often tested! Once two mothers came to Solomon to settle a dispute. Each had given birth to sons at the same time but one died. They both claimed the living child with one saying that the babies were switched at nighttime when she was asleep!
Solomon listened to them and then ordered the living child be cut in two, a half each! Immediately, the real mother objected while the lying mother agreed! The child was returned to its true mother.
King Solomon is famously known for building the temple in Jerusalem with the Ark of the Covenant placed in the holy of holies. The temple was huge for its time, measuring 90 x 30 and 45 feet high. It was built from a mixture of solid stone, cedarwood and precious metals with ornate structures throughout.
King Solomon reigned from ca 970-931 BC. (1 Kings 1:1-48; 3:1-28)
Thought
Sadly, people often admire great Temples, Churches and other buildings for their architectural prowess rather than their Sacredness!
Why not do both?
Reflection
Lord Jesus, I bow before you, in the heavens and in the tabernacles of the world. Teach me humility and respect, respect for myself and all peoples throughout the world. Amen
Prayer:
Guidance (Basil of Caesarea)
Steer the ship of my life, good Lord,
to your quiet harbour,
where I can be safe from the storms of sin and conflict.
Show me the course I should take.
Renew in me the gift of discernment,
so that I can always see the right direction in which I should go.
And give me the strength and the courage to choose the right course,
even when the sea is rough and the waves are high,
knowing that through enduring hardship and danger,
in your name, we shall find comfort and peace.
---
Top Questions:
What about Solomon's wealth?

Solomon "was the supreme ruler of all the kings in the territory from the Euphrates River to Philistia and the Egyptian border… (2 Chronicles 9:26). He was richer and wiser than any other king in the world" (2 Chronicles 9:22) and he accumulated enormous wealth. Every year he received twenty-five tons of gold… taxes… robes, weapons, spices, horses… (2 Chronicles 9).
How many wives did Solomon have?

He had "seven hundred wives of royal birth and three hundred concubines" (1 Kings 11:3). (Concubine: A mistress. A woman with whom a man cohabits but is not married.)

Naamah is the only wife mentioned by name in the Bible. She was the mother of Solomon's successor, Rehoboam. (1 Kings 14;21)
Did Solomon do as God asked?

Initially, yes. He followed his father's advice (King David). When he asked God for 'wisdom', God answered and this he partly shared through his writings, the Book of Proverbs.

However, Solomon seems to have ignored his own Proverb advice! He accumulated enormous wealth, took many wives and made sacrifices to false gods. This was all contrary to God's wishes. (Deuteronomy 17:14-20)

God punished Solomon, dividing his kingdom after his death. Solomon expressed his great regret in Ecclesiastes saying, "When all has been heard, the conclusion of the matter is this: Fear God and keep His commandments, because this is the whole duty of man". (Ecclesiastes 12:13)
Why does God tolerate our disobedience?

In life, God grants everyone the 'freedom of choice': to obey or disobey Him.

Then our judgement day follows!