Jesus' Life: Chapter 4 – Jesus' Ministry In Galilee (Part 1)
The term Apostle means messenger. In essence, the apostles were Jesus' messengers. He said to them. "Freely you received, freely give".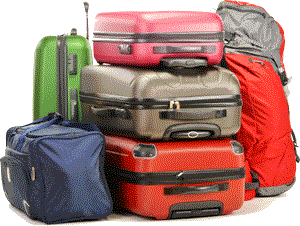 Having appointed his twelve aspiring shepherds, the Apostles, Jesus sent them on a special mission. He gave them authority over unclean spirits and the power to heal every kind of disease and illness. Then He told them, "Go to the lost sheep of the house of Israel… preach the message, 'The kingdom of heaven is near'… Heal the sick, raise the dead, cleanse lepers, cast out demons".
He also told them, "Do not take gold, silver, or copper in our belts, no bag for the journey, or an extra tunic, or sandals or staff, for the worker deserves his provisions. Whenever you enter a town or village, find out who is worthy there and stay with them until you leave. As you enter the house, give it greetings. And if the house is worthy, let your peace come on it, but if it is not worthy, let your peace return to you". (Matthew 10:1-4, Mark 3:13-19, Luke 6:12-16)
Thought
Going on holiday!
Will your bag be big enough? How many trousers, shorts, skirts…? What about toiletries; will you need a hair dryer or straighteners? Shoes! Ah yes, and what about trainers! Oops, can you carry all the bags, perhaps there will be a trolley or your friend! Then, of course, there is the important issue of travel money; cards, cheques, cash… will you have enough?
Or, how about the Apostles preparations: no advance hotel bookings, no luggage and no money. Simple!
Reflection
Lord Jesus, enlighten me in my selfish ways. May being a true follower of You mean living by your example and spreading your gospel through my daily actions.
Prayer:
Renewal
Lord Jesus,
give us humility wherever pride reigns,
pardon wherever offence abides,
grace wherever sin abounds;
we pray to you;
Jesus Christ, risen Lord,
have mercy on us. Amen.