Jesus' Life: Chapter 14 – The Olivet Discourse
As well as Jesus prophesying the destruction of the Temple in Jerusalem, he also foretold the fate of his disciples. He said to them, "they will seize you and persecute you, handing you over to the synagogues and prisons. You will be brought before kings and governors because of my name".
Soon after Jesus' crucifixion, resurrection and ascension to heaven, his prophecy began to unfold: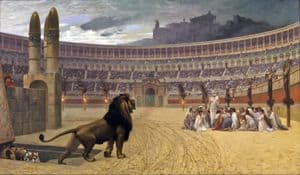 Peter and John were summoned before the rulers, elders and experts in the law for preaching Jesus' resurrection and beaten. (Acts 4:6-7 & Acts 5:40)
Stephen, one of the First Seven Deacons, was arrested and brought to the same Council before being taken outside the city and stoned to death. (Acts 6:12-7:60)
Christian Martyrs' Last Prayer (Image): On the same day as Stephens death, a great persecution was initiated against Christians in an attempt to destroy the Church; "entering one house after another, [they] dragged off both men and women and put them in prison". (Acts 8:1-3)
James was imprisoned by Herod and executed by sword. (Acts 12:2)
Peter was arrested by Herod and a public trial was planned for 'after the Passover' but an Angel of the Lord led him out of prison before he could be killed. (Acts 12:3-11)
Paul, now converted, and Silas' had their clothes torn off, beaten and imprisoned in Philippi. (Acts 16:22-17:9)
Paul was brought before many councils including, Jerusalem; (Acts 22:30;) King Agrippa and his wife, the Roman governors, Gallio, Felix, and Festus; and last of all, before Emperor Nero, in Rome, and his Prefect, Helius Cæsariensis.
Only one of the Apostles, John, avoided martyrdom.
Jesus also told his disciples, do not worry about what to say when your trial comes, "For I will give you the words along with the wisdom that none of your adversaries will be able to withstand or contradict" and "Yet not a hair of your head will perish. By your endurance, you will gain your lives". (Matthew 24:9-14, Mark 13:9-13, Luke 21:12-19)
Thought
Jesus' prophecy continues to be realised today as Priests and Religious are persecuted in many parts of our world for their faith. Jesus also remains faithful in His promise to them, they will gain eternal life.
Reflection


Lord Jesus, thank you for your miraculous work. Grant me the wisdom to recall your power in me when I see only problems.
Prayer:
Priests and Religious
St Paul, great convert and Apostle,
guide all priests and religious.
Help them realise that their actions
speak louder than any words.
Teach them to use their talents
to convey God's message
but, to rely above all,
on the promptings of the Holy Spirit. Amen.