Jesus' Life: Chapter 21 – Paul's Missionary Journeys
The Holy Spirit guided a group of "prophets and teachers" in the Christian Church of Antioch, Syria, to send Paul and Barnabus on a missionary journey to preach the Gospel of Jesus in Cyprus and Southern Galatia, Turkey.
In preparation for their journey, the group entered into a period of fasting and prayer, ending probably with the "Breaking of Bread," before "the placing of their hands on them" as a final blessing.
The mission lasted around three years from approximately AD46 to AD49.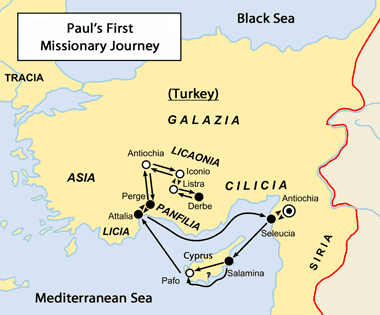 Summary of Places Visited
Sailed to Cyprus and preached on the island including, before the proconsul. (Acts 13:4-12)

Sailed to Pamphylia and preached in Perga & Antioch (Turkey). (Acts 13:13-52)

Preached for a short time in Iconium but fled to Lycaonia when attacked. (Acts 14:1-7)

Healed a cripple and preached in Lystra and Derbe. (Acts 14:8-20)

Retraced their complete journey, revisiting all the churches as they returned to Antioch (Syria). (Acts 14:21-28)
Short Story: The Magician
In Paphos, Paul and Barnabas were summoned by the proconsul to share the Word of God. While doing so, a magician (false prophet) opposed their every teaching. Paul rebuked the man saying, "You who are full of all deceit and all wrongdoing, you son of the devil…, the hand of the Lord is against you, and you will be blind… for a time". Immediately the man lost his sight and went around asking others to lead him by the hand.
The proconsul was astounded at Paul's teachings and believed. (Acts 13:10)
Short Story: Paul at Antioch, Turkey
Paul spoke so impressively at the synagogue in Antioch that the people asked him to return the following Sabbath. The next week, virtually the whole city came to hear him and soon "the word of the Lord was spreading through the entire region". (Acts 13:49)
However, some jealous Jewish leaders incited the "God-fearing women converts" of high social class and "prominent men," and forced them to leave the city. (Acts 13:50)
Short Story: Paul at Lystra
When Paul healed a man disabled from birth and unable to walk, the people wanted to give thanks by making a sacrifice to the gods Zeus and Hermes. Paul immediately objected and explained they were false gods and the healing of the disabled man wasn't their work but the work of Jesus Christ.
The people listened to Paul and Barnabus but "Jews came from Antioch and Iconium, and after winning the crowds over, they stoned Paul and dragged him out of the city, presuming him to be dead". (Acts 14:19)
Paul wasn't dead. Miraculously, when the disciples surrounded him, he got up and unscathed, returned to the city! (Acts 13:1-14:28)
Thought
Peter and Paul were miraculously saved from an early death on multiple occasions. I wonder, how many times has Jesus saved me from premature death!
Reflection
Lord Jesus, save me from all dangers and trials as I follow the journey you have planned for me. Shield me from my enemies and guide me safely home to your eternal paradise. Amen.
Prayer:
My Life (St Therese of Lisieux)
My life is but an instant, a passing hour.
My life is but a day that escapes and flies away.
O my God, you know that to love you on earth
– I only have today.
Lord, what does it matter if the future is gloomy?
To pray for tomorrow, O no, I cannot!
Keep my heart pure, cover me with your shadow
– Just for today.
O Divine Pilot, whose hand guides me.
I'm soon to see you on the eternal shore.
Guide my little boat over the stormy waves in peace
– Just for today.