Jesus' Life: Chapter 23 – Paul's Journey To Rome And Imprisonment
Before Paul was handed over for transfer to Rome, Festus sought the advice of King Agrippa, at a further hearing, on the suggested charges Paul was allegedly guilty of. He said to him, "I found that he had done nothing that deserved death…, But I have nothing definite to write to [Emperor Nero] about him". (Acts 25:25-26)
Paul re-testified and proudly shared his hope that all in the courtroom would become Christian. King Agrippa deemed Paul innocent and said to Festus, "This man could have been released if he had not appealed to Caesar". (Acts 26:32)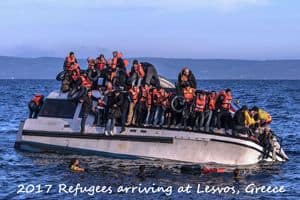 Paul was taken with some other prisoners to Adramyttium were they set sail for Italy. The centurion was probably hoping to arrive before the onset of the stormy season beginning at the end of October. However, sailing conditions were slow and at Fair Havens in Crete, the question was more about finding a safe port to shelter in for the winter.
Although Paul strongly urged them to stay put at Fair Havens, the centurion, more convinced by the captain, set sail again hoping for the safer port of Phenice in Crete.
It was not to be! They were caught in a severe storm, lost all idea of their location and were blown around the Mediterranean. About midnight on the fourteenth day, believing that they were getting close to land, the sailors tried to abandon ship in a small boat but their attempt was foiled.
Before dawn, Paul encouraged all to sit and eat together, undoubtedly moral was at a low point! He "took bread and gave thanks to God in front of them all, broke it, and began to eat," and they followed. Afterwards, to lightened the boat's load, they threw the remaining sacks of food overboard. (Acts 27:35)
As daylight approached, they saw a beach and decided to run the ship aground but the ship's bow struck rocks offshore and the battering waves started to break it apart. The soldiers then planned to kill the prisoners knowing they would be executed as punishment if the prisoners escaped! However, the centurion wanted to save Paul and ordered those who could swim to go ashore and the remainder to find planks of wood from the disintegrating ship to use as floats and then follow.
By the grace of God, all lives on board the ship safely reached the shore, some two hundred and sixty-six people. (Acts 27:1-44)
Thought
God never leaves me alone!
Reflection
Lord Jesus, I thank you for my gift of life, the hidden treasures of today, the daily protection that you bestow on me, the unknown that is to come and your promise of salvation. Amen
Prayer:
Transform Me
O my Divine Saviour, transform me into yourself.
May my hands be the hands of Jesus.
May my tongue be the tongue of Jesus,
Grant that every faculty of my body may serve only to glorify you.
Above all, transform my soul and all its powers,
so that my memory, my will and my affections
may be the memory, the will and the affections of Jesus.
I pray you to destroy in me all that is not you.
Grant that I may live but in you and for you,
and that I may truly say with St. Paul:
"I live, now not I, but Christ lives in me". (Gal 2:20)