Jesus' Life: Chapter 10 – Jesus' Last Journey To Jerusalem
Who do you trust?
Having told his listeners the Parable of the Dishonest Steward, Jesus said, "The one who is trustworthy in very small matters is also trustworthy in great ones, and the one who is dishonest in very small matters is also dishonest in great ones".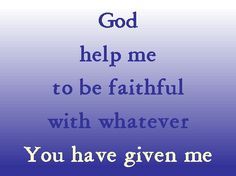 The leading message in this proverb is that those among us who act faithfully with small things are likely to be faithful with greater ones, therefore, greater trust can be given to them. To reinforce His message, Jesus added, "And if you haven't been trustworthy with someone else's property, who will give you your own?"
Another summary of Jesus' message could be, if you cannot be trusted with the gifts received from God for a short time, why would God reward you with the riches of heaven for all eternity? (Luke 16:10-12)
Thought
Could I describe myself as trustworthy with God's gifts?
Reflection
Lord Jesus, grant me the good sense to value the many gifts you have lovingly given to me and the wisdom to use them as you expect. Amen.
Prayer: Trust
O Christ Jesus,
when all is darkness
and we feel our weakness and helplessness,
give us the sense of Your presence,
Your love, and Your strength.
Help us to have perfect trust
in Your protecting love
and strengthening power,
so that nothing may frighten or worry us,
for, living close to You,
we shall see Your hand,
Your purpose, Your will through all things.