Jesus' Life: Chapter 2 – Jesus' Birth And Childhood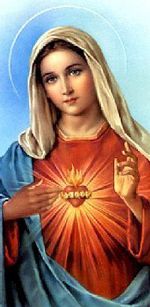 Imagine a couple planning their wedding but then an Angel from God telling the woman that, by Divine power, she would conceive a Son from the Holy Spirit before her wedding day.
Mary, a humble woman and engaged to Joseph, on hearing that she would give birth to Jesus and that Elizabeth her cousin was also pregnant, rushed to the support of her family. Joseph accepted her as his wife and she then visited her older cousin Elizabeth.
It was a long and probably difficult journey. On arrival and after their initial greetings, Mary sang from her heart to Almighty God. "My soul glorifies the Lord," she said. "My spirit rejoices in God my Saviour…" (Lk 1:39-45)
Thought
Blessed Mary, problems are easy to find in my life, answers often seem impossible but maybe my wavering trust in God is my weakness!
Reflection
Mary, pray with me to Jesus your Son, for an enlightened sense of trust in God. May my life be fearless and humble, knowing that my actions will be pleasing to our Almighty Father.
Prayer:
Magnificat
My soul glorifies the Lord,
my spirit rejoices in God my Saviour.
He looks on his servant in her lowliness;
henceforth all ages will call me blessed.
The Almighty works marvels for me.
Holy his name.
His mercy is from age to age,
on those who fear him.
He puts forth his arm in strength
and scatters the proud-hearted.
He casts the mighty from their thrones
and raises the lowly.
He fills the starving with good things,
sends the rich away empty.
He protects Israel, his servant,
remembering his mercy,
the mercy promised to our fathers,
to Abraham and his sons for ever. Amen.