Jesus' Life: Chapter 9 – The Way To The Cross
Jesus said to his disciples, "If two of you on earth agree about whatever you ask, my Father in heaven will do it for you. For where two or three are assembled in my name, I am there among them".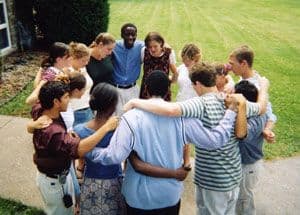 Here, Jesus was asking his disciples to jointly manage their decision making, two or more, and to know that when they met in His name, He will be in their midst and God will answer their prayers.
The disciples would have many future difficult joint decisions to make but knowing Jesus would be present must have been very comforting.
We can also assume that Jesus' words were a beautiful invite to us; to pray together with our family, friends and community. In return, special privileges would likewise, be forthcoming through His presence. (Matthew 18:19-20)
Thought
Praying together can bring unnoticed rewards; discussing, learning and growing in our faith among them. Perhaps, that was Jesus' plan!
Reflection
Lord Jesus, thank you for your love and your promise never to leave me. Guide me on my journey as I walk your way. Thank You, Jesus.
Prayer:
Guidance (Basil of Caesarea)
Steer the ship of my life, good Lord,
to your quiet harbour,
where I can be safe from the storms of sin and conflict.
Show me the course I should take.
Renew in me the gift of discernment,
so that I can always see the right direction in which I should go.
And give me the strength and the courage to choose the right course,
even when the sea is rough and the waves are high,
knowing that through enduring hardship and danger,
in your name, we shall find comfort and peace.