Jesus' Life: Chapter 6 – Jesus' Ministry In Galilee (Part 2)
Before Jesus sent his twelve disciples out to preach in pairs, he said to them, "Do not think that I have come to bring peace upon the earth. I have come to bring not peace but the sword."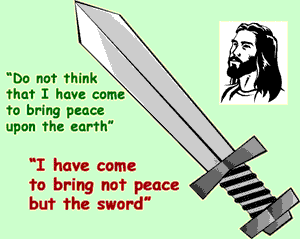 Such words may come as a great surprise but Jesus was speaking symbolically. The sword He referred to, was his Gospel teachings. He was sending the disciples out to preach Christianity. It was a message that meant putting our love for God first. He said, "Whoever loves father or mother more than me is not worthy of me and whoever loves son or daughter more than me is not worthy of me." (Matthew 10:34-36)
Thought
Our love for God must come first in our daily life. Of course, loving our children and family doesn't stop. Indeed doing so, is part of loving God but our love for God is a different kind of love. Our every action and thought must include God's wishes.
Reflection
Lord Jesus, thank you for being my way, my truth and my light. Take me to your Father, through You.
Prayer:
Love (1 Corinthians 13:4-7)
Love is patient, love is kind.
It does not envy, it does not boast, it is not proud.
It is not rude, it is not self-seeking,
it is not easily angered, it keeps no record of wrongs.
Love does not delight in evil but rejoices with the truth.
It always protects, always trusts,
always hopes and always perseveres.