Jesus' Life: Chapter 11 – Jesus At The Feast Of Tabernacles (St John)
Do you judge others? What criteria do you use?
Jewish law stated that the truth should be established by the testimony of two or more witnesses (Deuteronomy 19:15). So, Jesus said to a group of Pharisees challenging his authority, "I testify about myself and the Father who sent me testifies about me" – thus confirming two divine persons, as witnesses to his Gospel.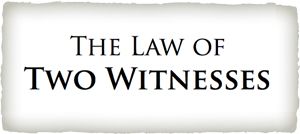 The Pharisees had been objecting to Jesus' claims that He was, "The light of the World" and promising that "The one who follows [Him] will never walk in darkness, but will have the light of life".
They made this challenge during the Feast of Tabernacles when Jesus was close to the Offering Box in the Temple. The Pharisees and experts in the law were again trying to find fault with Jesus and his teachings. They were accusing Him of giving false testimony.
Jesus added, "Even if I testify about myself, my testimony is true because I know where I came from and where I am going… You people judge by outward appearances… if I judge, my evaluation is accurate, because I am not alone when I judge, but I and the Father who sent me do so together". (John 8:12-20)
Thought
Are you an "Outward Appearance" Judge?
Avoid judging others. One day, God will judge us and any unfair judging we may have done to others, will be recalled.
Reflection
Lord God, help me to walk in your ways rather than compare myself to other people's ways. Teach me to accept the gifts I have and stay truthful to your teachings.
Prayer:
Abandonment (Charles de Foucauld)
Father, I abandon myself into your hands;
do with me what you will.
Whatever you may do, I thank you;
I am ready for all, I accept all.
Let only your will be done in me.
I wish no more than this, O Lord.
Into your hands I commend my soul:
I offer it to you with all the love of my heart,
for I love you, Lord, and so need to give myself,
to surrender myself into your hands without reserve
and with boundless confidence, for you are my Father.