Jesus' Life: Chapter 12 – Jesus' Ministry In Judea
Martha, Mary and Lazarus were sisters and brothers, and close friends of Jesus. Their family home was in Bethany, Judea.
When Lazarus became ill, Martha and Mary sent a message to Jesus saying, "Lord, look, the one you love is sick". Jesus, on receiving the message, said to those with him, "This sickness will not lead to death, but to God's glory, so that the Son of God may be glorified through it".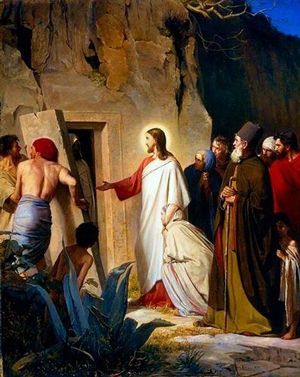 Two days later Jesus said to his disciples, "Let us go to Judea again. "The disciples protested saying, "Rabbi, the Jewish leaders were just now trying to stone you to death! Are you going there again?" Jesus replied, "Our friend Lazarus has fallen asleep. But I am going there to awaken him". The disciples said, "Lord, if he has fallen asleep, he will recover", possibly thinking he had just gone to sleep but Jesus explained to them that Lazarus had died.
When Jesus arrived at Lazarus' home there were many others present from both Bethany and Jerusalem; Jerusalem was less than two miles away. They had gathered to pay tribute to the family at the loss of Lazarus.
When Martha heard that Jesus had arrived, she went out to meet him and said, "Lord, if you had been here, my brother would not have died. But even now I know that whatever you ask from God, God will grant you". Jesus replied, "Your brother will come back to life again". Martha said, "I know that he will come back to life again in the resurrection at the last day", Jesus replied, "I am the resurrection and the life. The one who believes in me will live even if he dies, and the one who lives and believes in me will never die. Do you believe this?" Martha answered, "Yes, Lord, I believe that you are the Christ, the Son of God who comes into the world".
Mary, also went out to meet Jesus. She fell at his feet and weeping, she said, "Lord, if you had been here, my brother would not have died".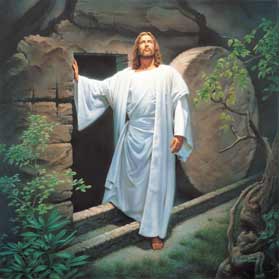 Jesus, "intensely moved", asked, "Where have you laid him?" They replied, "Come and see".
Arriving at the tomb, with a gathered crowd, Jesus asked for the tombstone to be taken away. Martha protested saying, "Lord, by this time the body will have a bad smell because he has been buried four days". Jesus said, "Didn't I tell you that if you believe, you would see the glory of God?"
When the tombstone was removed, Jesus shouted in a loud voice, "Lazarus, come out!" To everyone's astonishment, Lazarus, dead for four days, appeared at the tomb entrance still wrapped in burial linen; Jesus had brought Lazarus back to life.
Jesus said to the crowd, "Unwrap him [Lazarus] and let him go". (John 11:1-14)
Thought
Martha and Mary had intense faith in God and in their own resurrection. They knew their brother Lazarus would rise again on the last day, but with Jesus, rising and returning to live on earth once more, was also, not impossible.
Reflection
Lord God, hold firm my faith as I await my resurrection.
Prayer:
Jesus Our True Love (Hildegard of Bingen)
Jesus Christ, the love that gives love,
You are higher than the highest star;
You are deeper than the deepest sea;
You cherish us as your own family;
You embrace us as your own spouse;
You rule over us as your own subjects;
You welcome us as your dearest friend.
Let all the world worship you.