Jesus' Life: Chapter 5 – The Sermon On The Mount
For many of us, when we arrive at the shop or market, food is already in sealed bags with the contents clearly labelled and measurements accurately listed. This was not always the way.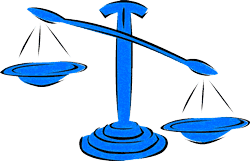 In Jesus' time, it was more likely that when you arrived at a market, the owner would measure out your flour, rice or other grain, in a can. The honest owner would overfill, press down to remove trapped air and pour the sumptuous measure into your bag. The honest owner would also, be as generous with all his other goods and then, hand them graciously to you, his valued customer.
When Jesus told a crowd, "Do not judge, and you will not be judged… give, and it will be given to you," he used that everyday example of the honest shop owner saying, "A good measure, pressed down, shaken together, running over, will be poured into your lap. For the measure you use will be the measure you receive". (Luke 6:32-36)
Thought
Everything that goes around comes around; that's what Jesus was saying. Each short measure that we give to others makes a fool of only one person, ourself.
Be honest, reap the rewards of what you give today in the next world; it will be returned to you many-fold.
Reflection
Lord Jesus, open my heart to the needs of others. Grant me the grace to accept my small burden without judgement and place my needs after theirs.
Prayer:
Generosity
Lord, teach me to be generous.
Teach me to serve you as you deserve;
To give and not to count the cost;
To fight and not to heed the wounds;
To toil and not to seek for rest;
To labour and not to ask for reward,
save that of knowing that I am doing your holy will. Amen