Jesus' Life: Chapter 6 – Jesus' Ministry In Galilee (Part 2)
Most of us can usually eat in peace with family, friends or alone. However, if our time is in demand, the idea of a peaceful meal may sometimes have to go out the window!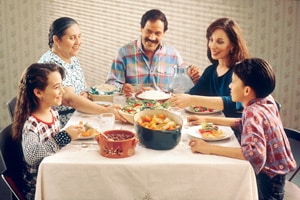 Even in Jesus' early ministry, his time was at a premium. News of his great work had quickly spread across communities and people wanting to see him in person, hear him preach and witness his healing miracles.
Once, following his appointment of the Twelve Apostles, Jesus went home to eat. A crowd soon gathered around his house, "So that they were not able to eat". (Mark 3:20-21)
Thought
Time is a gift from God, to be used to fulfil his will; time to care for oneself, work, pray and help others.
Reflection
Lord Jesus, your word is the message of eternal life.
Help me to understand, accept and share your message with others.
Open my eyes to the simple ways others see you in me, through my actions.
Strengthen my resolve to overcome little temptations and put your ways first.
Prayer:
Most Holy Spirit
Most Holy Spirit, beloved of my soul, I adore You.
Enlighten me, guide me, comfort me, console me.
I promise to submit myself to all You desire of me,
And permit all You wish to happen to me.
Give me Your help, tell me what to do.
Most Holy Spirit, bring peace to my world. Amen.