Jesus' Life: Chapter 4 – Jesus' Ministry In Galilee (Part 1)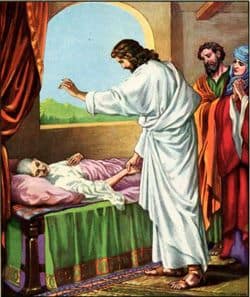 After Jesus removed an unclean spirit from a man in Capernaum Synagogue, he left and went to the house of Simon and Andrew. Accompanying Him were the disciples James and John. Perhaps it wasn't his first visit; maybe He had visited their home many times before, for the occasional something to eat or as a place to stay.
When Jesus arrived he was told that Simon's mother-in-law was lying ill with a fever. Jesus approached her, took her by the hand and gently raised her upright. Miraculously, her fever instantly left.
Simon's mother-in-law, now completely recovered, returned to her work and started to serve all present. (Mark 1:29-31, Luke 4:38-39)
Thought
Lord Jesus, I am not always aware of your gentle kindness towards me, but I know you remain constantly watchful by my side. Thank you for your help in my many times of need.
Reflection
Lord Jesus, I surrender myself to you. Remove my anxieties and worries. Grant me the grace to see you as my constant helper and healer.
Prayer:
All Needs
We beg you, Lord Jesus,
to help and defend us.
Deliver the oppressed.
Pity the insignificant.
Raise the fallen.
Show yourself to the needy.
Heal the sick.
Bring back those of your people who have gone astray.
Feed the hungry.
Lift up the weak.
Take off the prisoner's chains.
Almighty Father,
may every nation come to know that you alone are God,
that Jesus is your child,
that we are your people,
the sheep that you pasture. Amen.