Jesus' Life: Chapter 8 – Jesus' Ministry In Galilee (Part 3)
Once, a crowd of around four-thousand people, excluding women and children, stayed with Jesus for three days listening to him preach and teach. By then their food reserves were exhausted.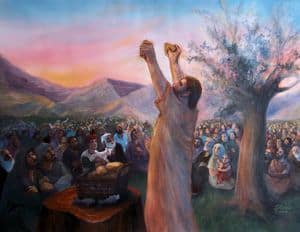 Not wanting to send the people away hungry, Jesus "had compassion on them" and asked his disciples how many loaves of bread they had. They answered seven and some small fish. Jesus instructed the crowd to sit down and taking the loaves and fish, gave thanks, broke them and then directed the disciples to serve the food to the people.
When everyone had finished eating their fill, to their astonishment, they collected seven baskets of food scraps. (Matthew 15:32-39, Mark 8:1-10)
Thought
Jesus spent three joyous days with four thousand plus people, nourishing their body and soul; providing food and sharing the Word of God.
Reflection
Lord Jesus, thank you for my many daily gifts including, the food received from your bounty. Accept this humble prayer offering, which I ask Mary your Blessed Mother to place at your feet.
Prayer: Holy Are Your Ways
Help me to understand, Lord,
that what counts is not the road travelled,
but simply putting my hand in yours
and journeying side by side with you.
Lord Jesus, you are the joy of my journey,
the repose in our Father's home.
Holy, holy is the Lord,
for eternal is your love.