Jesus' Life: Chapter 9 – The Way To The Cross
Early in his sporting career, Muhammed Ali proudly announced that he was the greatest boxer of all time; it was a clever marketing catchphrase.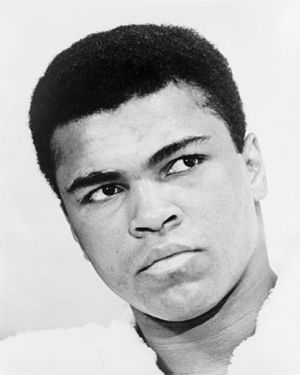 In 1964 he became the undisputed World Heavyweight Champion and although now sadly passed away, he was one of the most recognisable people on our planet. Perhaps he was the greatest boxer in the sport, perhaps not. For boxing fans, the question is sure to generate agreement and disagreement.
As Jesus travelled from village to town and preached His Gospel, he had many followers. They were a mix of male and female, young and old. From among them, he selected twelve to be His Apostles and Simon Peter to be their Leader. So, was Simon Peter the greatest disciple?
Well, most of us would try to avoid answering that question; he had stiff competition from the other Apostles, as well as, Mary Magdalene and lots of unknown others. So, like the sporting fans, a clever answer might be, "Perhaps yes, perhaps no; leave the judging to God".
The disciples had a similar heated discussion. They wanted to know, "Who was the greatest in the kingdom of heaven?" Jesus gave them this stern response, "Unless you turn around and become like little children, you will never enter the kingdom of heaven! Whoever humbles himself… and likewise welcomes a child in my name welcomes me". (Matthew 18:1-5, Mark 9:33-37, Luke 9:46-48, John 13:20)
Thought
Speechless, is probably how the disciples reacted to Jesus' comment; followed by a reexamination of their conscience.
The same examination could equally apply to us. Am I as humble as a child towards others, my family and my community? Am I as welcoming as a child to the poor, disabled and marginalised?
Rightly, we prioritise the teaching of our children but often forget, we can learn a lot from them by being like them. Be a child today.
Reflection
Lord Jesus, grant me the grace of humility, like a child, and give me the strength to stretch my caring hand to the weak, the persecuted and the poor.
Prayer: The Poor
Make us worthy, Lord,
to serve our brothers and sisters throughout the world,
who live and die in poverty and hunger.
Give them, through our hands,
this day their daily bread,
and by our understanding love,
give them peace and joy.
Make us, Lord,
worthy to serve our brothers and sisters,
scattered all over the world,
who live and die alone and poor.
Give them today, using our hands, their daily bread.
And, using our love, give them peace and happiness. Amen.