Jesus' Life: Chapter 4 – Jesus' Ministry In Galilee (Part 1)
The Sabbath in Capernaum was a very busy day for Jesus; teaching, removing unclean spirits and healing the sick. His work had extended into the late evening as many, hearing of his great work, arrived.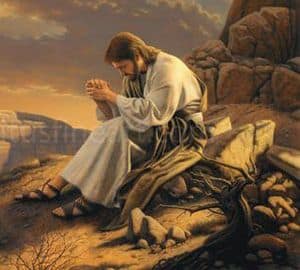 The following day Jesus rose before daybreak and went to a deserted place to be alone and pray to his Almighty Father in Heaven. His prayers were private but we can easily imagine they were filled with thanksgiving for yesterday and guidance for today.
When Simon and the other disciples awoke, they went looking for him. Indeed, they were not alone, the people of Capernaum also wanted to find him, they wanted Jesus to stay with them.
On finding Jesus, the disciples told him how everyone was out searching for Him. Jesus' response probably came as a great surprise, He said to them, "Let us go elsewhere, into the surrounding villages, so that I can preach there too. For that is what I came out here to do". (Mark 1:35-38, Luke 4:42-43)
Thought
It is often easier for us to stay where we are most comfortable, where people accept us, share our beliefs and passions.
However, Jesus wasn't planning an easy life for himself, he was planning to fulfil the will of God the Father. That meant facing the unknown challenges ahead, not hiding from them.
Reflection
Lord Jesus, when I become too comfortable or tired, remind me of the sacrifices you made for me. Strengthen my resolve to keep doing your will and grant me your blessing and grace.
Prayer:
All Needs (St Clement of Rome)
We beg you, Lord, to help and defend us.
Deliver the oppressed.
Pity the insignificant.
Raise the fallen.
Show yourself to the needy.
Heal the sick.
Bring back those of your people who have gone astray.
Feed the hungry.
Lift up the weak.
Take off the prisoner's chains.
May every nation come to know that you alone are God.
that Jesus is your Child,
that we are your people,
the sheep that you pasture. Amen.