Jesus' Life: Chapter 18 – The Passion And Death Of Jesus
Time: Good Friday: – Approx. 3.00am
St John, the Evangelist, writes that Jesus was hastily taken from the Garden of Gethsemane to Annas, the father-in-law of the High Priest Caiaphas. Annas was appointed the high priest in 12AD, followed by his son Eleazar, then his son-in-law Caiaphas and subsequently four other sons. It would appear that, although Annas was no longer the high priest of the Sanhedrin, he retained very considerable powers.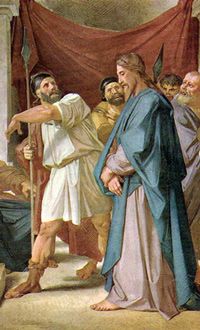 Annas quizzed Jesus about his Christian preaching and his close followers, the disciples. He was likely to have been trying to quickly entrap Jesus, showing that He had committed a crime and that He incited others to rise up against the Jewish faith.
Jesus replied, "I have spoken publicly to the world. I always taught in the synagogues and in the temple courts, where all the Jewish people assemble together. I have said nothing in secret. Why do you ask me? Ask those who heard what I said. They know what I said". (John 18:20-21)
When a nearby officer struck Jesus on the face saying, "Is that the way you answer the high priest?" Jesus replied, "If I have said something wrong, confirm what is wrong. But if I spoke correctly, why strike me?" (John 18:22-23)
Annas made nothing of his questioning of Jesus, no wrongdoing and no evidence uncovered.
Annas then sent Jesus, still bound, to Caiaphas, the high priest of the Sanhedrin. (Matthew 26:57-68, Mark 14:53-65, Luke 22:54-71, John 18:13-24)
Thought
How open-minded am I?
Do I decide if someone is guilty before I question them? Sadly, many people do, their behaviour is no different from that of Annas!
Reflection
Lord Jesus, grant me the grace of discernment so that my reaction towards others is respectful and dignified.
Prayer:
The Lord is My Shepherd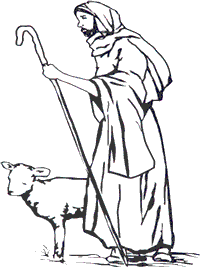 The Lord is my Shepherd, I shall not want.
He makes me lie down in pastures green,
He leads me beside quiet waters, He restores my soul.
He guides me in paths of righteousness for His name's sake.
Even though I walk through the valley of the shadow of death,
I will fear no evil, for you are with me;
Your rod and Your staff, they comfort me.
You prepare a table before me in the presence of my enemies.
You anoint my head with oil, my cup overflows.
Surely goodness and kindness will follow me all the days of my life,
and I will dwell in the house of the Lord forever. Amen.