Jesus' Life: Chapter 19 – The Resurrection Of Jesus
Time: Prior to Jesus' Ascension
This appearance of Jesus is commonly referred to as the Great Commissioning (Matthew); the granting to the Apostles the power and authority to preach Jesus' Gospel to all peoples throughout the world.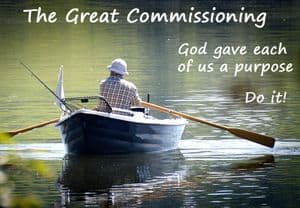 Some have suggested that the event took place on Mt. Tabor and that other disciples were present or perhaps, it was on the same occasion that five hundred people were present. What we know for sure is only that it took place in Galilee, at a place previously agreed between Jesus and his eleven Apostles. Whether others were present or not is conjecture; what matters is that Jesus singled out the Apostles for His Great Commissioning.
At the moment of Jesus' appearance, "They [the Apostles] worshipped him [falling prostrate at His feet], but some doubted [possibly other disciples or people present and unable to initially see Jesus clearly, maybe among the five hundred]". (Matthew 28:17)
Jesus said to the eleven Apostles, "All authority in heaven and on earth has been given to me. Therefore, go and make disciples of all nations, baptizing them in the name of the Father and the Son and the Holy Spirit, teaching them to obey everything I have commanded you. And remember, I am with you always, to the end of the age". (Matthew 28:19-20)
(Matthew 28:16-20)
In Summary:
Jesus had announced his supreme authority over Heaven and Earth
The Apostles were now the teachers of Jesus' Gospel to the whole world, without distinction between nations, and all Christians were duty bound to spread it to others and be true witnesses.
The Apostles were to baptise in God's holy name.
Jesus promised his everlasting presence to the Apostles.
Thought
What are the specific responsibilities that Jesus gave to me?
Reflection
"My Lord and my God," guide me in my daily missionary work as I share your Gospel with my family and friends, in my home and in my work. May I be a true witness to Your Gospel values.
Prayer:
Family
Lord Jesus,
I humbly ask you to grant your special graces on my family.
May our home be a place of peace, purity, love, labour and faith.
Protect and bless everyone, present and absent, living and dead.
Mary, loving Mother of Jesus and our Mother,
pray to Jesus for our family
and all families throughout the world.
St Joseph, Holy guardian of Jesus and Mary,
assist us by your prayers.
Ask Jesus for that special grace that he granted to you,
to watch over our home.
O Holy Family,
may our family be one day united with yours,
in the eternal happiness of heaven.