Jesus' Life: Chapter 19 – The Resurrection Of Jesus
Time: Prior to Jesus' Ascension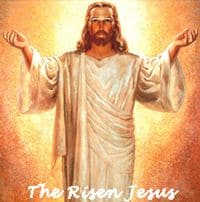 For a third time, the Risen Jesus revealed himself to a large group of Apostles. They were by the Sea of Tiberias (Sea of Galilee) and Simon Peter, Thomas (Didymus), Nathanael (Bartholomew), James & John (the sons of Zebedee), and two other disciples, probably from among the seventy, were present.
Awaiting direction from the Holy Spirit (Pentecost), the Apostles had returned to their old professions, at least occasionally. So, when Simon Peter said to the others, "I am going fishing" they replied, "We will go with you". (John 21:3)
Having fished all night and caught nothing, they made their way back to shore early morning.
About 100 yards from the shore, they saw Jesus standing by the water's edge but they didn't immediately recognise Him. Jesus then endearingly called out to them, "Children" and added, "You don't have any fish, do you?" When they disappointedly replied, "No," He told them, "Throw your net on the right side of the boat, and you will find some". Without further comment, they threw their net out and caught 153 large fish, collectively far too many and too heavy a catch for them to haul onboard the boat. (John 21:5-6)
Immediately, John, intuitively or recalling Jesus' previous miraculous catch of fish, recognised that it was Jesus standing on the shore and he said to Simon Peter, "It is the Lord".
Simon Peter, in his usual reactionary way, tucked in his outer garment, out of respect for Jesus, and plunged into the sea in his eagerness to meet Him. The other disciples took the boat to shore, dragging the net full of fish behind them.
Onshore, the disciples "saw a charcoal fire ready with a fish placed on it and bread". When Jesus said, "Bring some of the fish you have just now caught," Simon Peter went and dragged the remainder of the untorn net out of the water and retrieved some fish from it. (John 21:11)
Jesus then said, "Come have breakfast" and he "took the bread and gave it to them and did the same with the fish". (John 21:12-13)
The disciples didn't ask Jesus, "Who are you?" because they already knew it was the Lord. (John 21:12)
Potential Symbolic References in Jesus' Miraculous Catch:
The Miracle: Jesus' higher knowledge.
Jesus' guidance to the Apostles, "Throw your net on the right ": With Jesus all things are possible.
One hundred and fifty-three fish: Abundance of souls for the disciples to take His Gospel to. (Bringing all nations into God's Kingdom – St Jerome)
Dragging the net full of fish to shore: The labouring of Jesus' disciples.
Jesus standing on shore and food at the ready: Jesus waiting to feed the hungry with his Gospel news.
Adding the fish caught to that already on the fire: Rejoicing together at the success of their shared work.
(John 21:1-14)
Thought
How often does my daily work appear fruitless?
Do the occasions coincide with times when I fail to invite Jesus to join me?
Reflection
Lord Jesus, open my eyes to your Gospel ways so that others will recognise You in my daily works. Amen.
Prayer:
The Grace To Forgive
Lord Jesus, grant me the strength to forgive.
Purify my heart and mind.
Bestow your grace on my weaknesses and failings.
Open my life to your true and endless love. Amen.