Jesus' Life: Chapter 19 – The Resurrection Of Jesus
Time: Early Morning on Easter Sunday
St Matthew records a further appearance of Jesus to Mary Magdalene with "the other Mary" (The mother of James and Joseph – Mt 28:1; Mt 27:56) (Mt 27:61). He places the timing of the event to when they were returning from the empty tomb to tell the disciples that Jesus had risen. However, according to Mark and John's account, it's more likely to have occurred after Jesus appeared to Mary Magdelene. (Mark 16:9; John 20:11-14)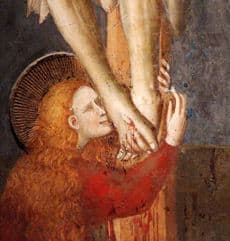 As the two Mary's were on their way from the tomb, to their great surprise and joy, Jesus met and greeted them. He may have used the words, "Peace be with you," a blessing he later used when He appeared to the disciples. (John 20:19)
Mary Magdalene and Mary immediately recognised Him, and in reverence and humility fell to his feet, held them affectionately and worshipped Him.
Jesus had truly risen, their faith in Him was now being specially rewarded. (Matthew 28:7-10)
Thought
Differences between Gospel narratives are to be expected; they reflect the writer's independence, their use of different witnesses and time lapses between the event and writing, sometimes many years later!
Reflection
Risen Lord Jesus, through the gifts of your Holy Spirit, help me to be a true witness to your resurrection and ascension. Amen.
Prayer:
Act of Faith
O my God,
I firmly believe that You are one God in three Divine Persons;
Father, Son and Holy Spirit.
I believe that your Divine Son became man and died for our sins
and that he will come again to judge the living and the dead.
I believe these and all the truths which the Church teaches
because You revealed them. Amen.