Jesus' Life: Chapter 20 – Early Spread Of Gospel By the Disciples
James and John were brothers, the sons of Zebedee. Jesus selected both to be among his chosen Twelve.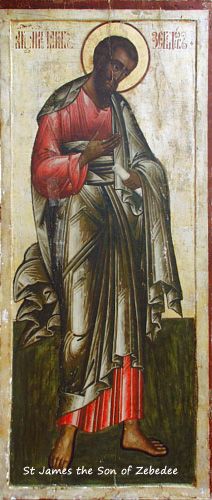 When their mother asked Jesus if they could sit, one on God's right and the other on His left in their next life, He answered, "You don't know what you are asking! Then Jesus turned to James and John, and said, "Are you able to drink the cup I am about to drink?" They replied that they were so, Jesus said, "You will drink my cup". (Matthew 20:22-23)
It was around the time of the famine in Judea when Paul and Barnabas took financial aid from Antioch that Jesus' prophecy came true for James.
King Herod Agrippa, a grandson of Herod the Great, had arrived in Judea. He portrayed himself as a devout worshipper and, wishing to gain support among the local people, aligned himself with being anti-Christian and that pleased the Jews. Perhaps, at the time, many of them were reacting to the ruling that Gentiles could become Christians without being circumcised and follow other Jewish customs!
Among his "favourite" anti-Christian actions, Herod Agrippa, "laid hands on some from the church (Christians) to harm them" and had James "executed by sword," a common means of death in Roman law. (Acts 12:2) (St Jerome states that he was beheaded on the anniversary of Jesus' crucifixion.)
St James was the first of the Twelve Apostles to be martyred. (Acts 12:1-2)
Thought
Do I remain mute, despite knowing other peoples actions are wrong?
Spiritual Works of Mercy include admonishing sinners: "You should correct the sinner in a gentle spirit". (Gal 6:1)
Reflection
Lord Jesus, open my eyes to my failings and guide me in humble ways to assist my family to live by your Gospel values. Amen.
Prayer:
Psalm 149
Sing a new song to the Lord,
his praise is the assembly of the faithful.
Let Israel rejoice in its Maker,
let Sion's sons exult in their king.
Let them praise his name with dancing
and make music with timbrel and harp.
For the Lord takes delight in his people.
He crowns the poor with salvation.
Let the faithful rejoice in their glory,
shout for joy and take their rest.
Let the praise of God be on their lips
and a two-edged sword in their hand.
to deal out vengeance to the nations
and punishment on all the peoples;
to bind their kings in chains
and their nobles in fetters of iron;
to carry out the sentence pre-ordained:
this honour is for all his faithful.