Biblical Date: 2091BC
In Mesopotamia, 2091 BC, God visited Abraham and promised that He would give him a new land, make for him a great nation with many descendants, and bless him and his families. He then said to Abraham, "Go out [now] from your country and from your relatives, and come to the land I will show you". (Acts 7:3)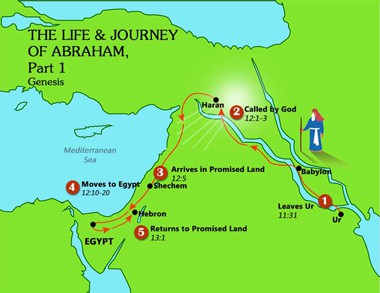 Abraham was a man of deep faith and did as God asked. He took his wife Sarah, his nephew Lot and their families, and left Ur, a prosperous city.
They arrived in Canaan, Abraham's future heritage, but to avoid famine they continued onward to Egypt. Although Abraham feared Egypt's Pharaoh and lied to him about his beautiful wife saying she was his sister, God continued to protect them.
When they left Egypt to return to Canaan, Abraham and Lot, now wealthy, agreed to part company. Lot chose the fertile plain of the Jordan valley while Abraham accepted the less rich lands of the west. When God saw Abraham's unselfish act, He promised that his descendants would be as numerous as the particles of dust on the earth.
God also promised Abraham and his troubled wife Sarah, that despite their old age they would have a son. Although Sarah waited, she did not conceive so, she gave Hagar, her servant woman, to Abraham to bear him a Son. Abraham accepted and they called their son, Ishmael.
However, Ishmael was not the Son God promised and He spoke to Abraham again and reiterated his promise that Sarah would bear a son whom they were to call Isaac. (Genesis 12.1-18.15)
Thought
God is patient and especially merciful; He never leaves us despite our sinful ways!
Reflection
Lord Jesus, as I face this new day, fill me with your wisdom; teach me the joy of your peace, patience, kindness, goodness, gentleness and self-control. Amen.
Prayer:
Perseverance (John Henry Newman)
O Lord,
support us all the day long of this troublous life,
until the shadows lengthen, and the evening comes,
and the busy world is hushed,
and the fever of life is over, and our work is done.
Then, Lord, in thy mercy,
grant us a safe lodging, a holy rest,
and peace at the last. Amen.
---
Top Questions: